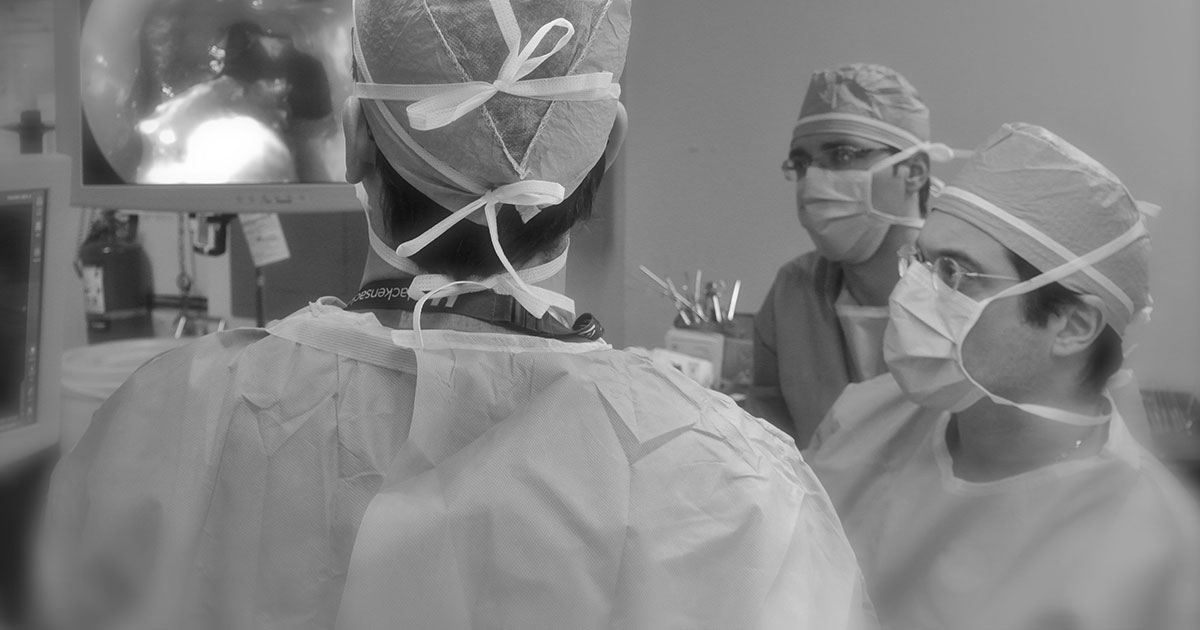 When George J. Kaptain, MD, decided to become a physician, he had some big shoes to fill. His grandfather and great grandfather were well-respected physicians in his ancestral island of Karpathos, Greece. In fact, his grandfather, while serving as a physician on the island, was recruited by the British intelligence services to become a spy during World War II, reporting on German troop movements.
But Dr. Kaptain wasn't always certain he wanted to become a physician, let alone a neurosurgeon. He studied comparative literature in college and was planning to become an English teacher. Over the course of his studies, however, he became interested in Freud's psychoanalytic theories, and felt drawn to a career in psychiatry. His path took another detour at the University of Virginia Medical School, when he met an influential professor of neurosurgery. "The excitement and energy in the department was contagious," says Dr. Kaptain. "The complexities of neurosurgical disease, the fascinating operations, the challenges of patient care, and the anatomy of the nervous system attracted me."
Today, Dr. Kaptain, who has more than two decades of experience caring for patients, is a well-respected provider of surgical and radiosurgical treatment of brain, spine, skull-base, and pituitary tumors, as well as the treatment of trigeminal neuralgia.
Here's more about Dr. Kaptain and his care philosophy.
Q: What is your primary goal when serving patients?
Dr. Kaptain: Beyond ensuring patients have the highest quality care, I seek first to help them better understand their condition and treatment options. This helps them process what they are facing, and I think it's the first step towards healing. I also work to develop strong connections with my patients. I think empathy is an attribute that can't be taught in schools it comes from within and I like to think that it is something I offer. Of course, honesty is of the utmost importance. I always tell patients that while I cannot guarantee a certain outcome, I can guarantee that I will do everything in my power to ensure the best possible result.
Q: What aspect of your practice is unique or sets you apart from most other physicians?
Dr. Kaptain: I develop close, collaborative relationships with other physicians because I believe that a team-based approach benefits patients. I've assembled a multi-disciplinary team of experts at the John Theurer Cancer Center that is comprised of neuro-oncologists, radiation oncologists, neuro-pathologists, and neuroradiologists. This ensures we have a unified team that augments my expertise during diagnosis, treatment, and surgery (if necessary), with additional expertise during the recovery process.
Another aspect central to the success of our program and an aspect of which I am particularly proud, is our ongoing and active clinical research. We have curated a portfolio of clinical trials (25 since inception) allowing us to enroll more than 80% of patients with malignant glioma. This unusually high percentage indicates that we have been able to successfully match patients with a valuable opportunity to gain treatments above and beyond the standard of care.
Q: Many patients are anxious about their condition. How do you help patients cope with anxiety and fear?
Dr. Kaptain: No matter how often I've treated other patients with a particular condition, I always pause to remember that each patient and their family is experiencing the problem for the first time. I give my full attention and listen carefully to their concerns, which helps me connect in a more personal and empathetic way. Taking time to explain what's happening and what the nature of the problem is in a way that they can understand is extremely important. Once we've formed that connection and I've learned more about the patient's concerns, we review the nature of the problem, and develop a comprehensive treatment plan of how we're going to approach it.
Q: What is your favorite aspect of interacting with patients?
Dr. Kaptain: I really enjoy forming personal connections with patients and families. I feel honored and privileged to be trusted and it's extremely gratifying to change their lives in positive ways. Whether working to restore vision in a patient with a pituitary tumor, normalizing hormonal function in a patient with Cushing's disease to allow her to conceive a child, or restoring the ability to walk in a patient with a spine tumor, these experiences, and many others like them, motivate me every day. I'm also always fascinated to learn more about my patients. I had a patient who built skyscrapers, a patient who was a Flying Tiger pilot during World War II, another who produced Broadway plays. I love learning these things about patients, and helping them to live life to the fullest.
Q: New Jersey Brain and Spine is one of the leading neurosurgery practices in the country. What contributes to that success?
Dr. Kaptain: Our practice is a group of physicians who are like-minded and collaborative. By ensuring we have partners with unique interests and training in key subspecialty areas, we offer patients the best service possible. Our group's strength and this is not very common in neurosurgery practices is our willingness to work with each other as well as with physicians outside our practice. That partnership is the cornerstone of hospital programs we've established and contributes to offering the highest level of care.
In addition, not every patient who sees a neurosurgeon should have an operation. We're motivated to make the right decision for each patient, whether that involves surveillance, radiosurgery, surgery, physical therapy, or other approaches. We inform patients, educate them about their problem, and help them choose the right path. Our partnership is with our patients as well as with each other.
See more about Dr. Kaptain