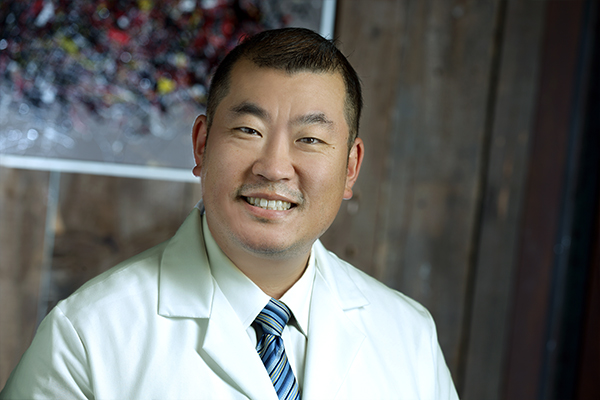 Kangmin Daniel Lee, MD
Neurosurgeon
We recommend the treatment option that will provide the best result with the least risk.
Overview
Dr. Lee is one of the premier neurosurgeons in the country for the treatment of brain and spine tumors. Fellowship-trained in neurosurgical oncology at the University of Cincinnati Brain Tumor Center, he has advanced expertise in radiosurgery and in minimally invasive techniques to treat tumors of the brain and spine. He also is highly skilled in the treatment of  traumatic and degenerative diseases of the spine and in the treatment of peripheral nerve disorders.
A strong advocate for patients, Dr. Lee is committed to finding the most appropriate treatment with the least risk. He believes that every patient is different, and every patient faces different circumstances, so he takes the time to get to know his patients and embraces a personalized approach to care.
Biographical Highlights
Medical College of Virginia/VCU School of Medicine
Medical College of Virginia/VCU School of Medicine (Chief Resident)
Advanced Fellowship Training
Neurosurgical oncology, University of Cincinnati/Mayfield Clinic Brain Tumor Center
Dr. Lee is dedicated to helping advance neurosurgical knowledge in order to improve the care of patients with brain and spinal conditions. He served as an assistant professor at Hofstra University School of Medicine, and he is an avid writer. His articles have appeared in scientific journals and he has written medical textbook chapters. Dr. Lee has also served as a reviewer for the Journal of Neurotrauma, the Journal of Neurosurgery, and Thieme Medical Publishers.
Top Doctors New York Metro Area (digital guide) Since: 2021

Jersey's Best Magazine Top Doctors Since: 2021

New York Magazine: Top Doctors Since: 2021

Castle Connolly Top Doctor Since: 2020
Top Doctor, New Jersey Monthly: Perennial Recipient
Compassionate Doctor, Vitals: Perennial Recipient
Patient's Choice, Vitals: Perennial Recipient
Crutchfield, Gage and Thomson Award, Neurosurgical Society of the Virginias: 2009
Joseph Collins Foundation Grant: 2000-2003
D. Williams/Aesculapian Summer Research Fellowship: 2000
Englewood Health
Hackensack Meridian Health Mountainside Medical Center
Hackensack University Medical Center
Holy Name Medical Center
The Valley Hospital
Saint Barnabas Medical Center
American Association of Neurological Surgeons
Congress of Neurological Surgeons
Neurosurgical Society of the Virginias
North American Spine Society
Society for Neuro-Oncology
Lee, K.D., DePowell, J.J., Air, E.L., McPherson, C.M., Atypical Meningiomas: is postoperative radiotherapy indicated? Neurosurgical Focus. 2013 Dec; 35(6): E15
Colello, R.M., Chow, W.N., Bigbee, J.W., Lin, C., Dalton D., Brown, D., Jha, B.S., Mathern, B.E., Lee, K.D., Simpson, D.G., The incorporation of growth factor and chondroitinase ABC into an electrospun scaffold to promote axon regrowth following spinal cord injury. J Tissue Eng Regen Med. 2013 Aug 15
Clark, A., Lee, K.D., Broaddus, W., Martin, M., Ghatak, N., Grossman, C., Baker, S., Baykal, A., Primary brain T-cell lymphoma of the lymphoblasti type presenting as altered mental status. Case Report. Acta Neurochir(Wien). 2010 Jan; 152(1):163-8, Epub 2009 Jul 4
Lee, K.D., Chow, W., Sato-Bigbee, C., Graf, M., Graham, R., Young, H., Mathern, B., Administration of FTY720 reduces inflammation and promotes functional recovery after Spinal Cord Injury in rats. J Neurotrauma. 2009 Decl26(12):2355-44
Jha, S.B., Colello, R.J., Bowman, J.R., Sell, S.A., Lee, K.D., Bigbee, J.W., Bowlin, G.L., Chow, W.N., Simpson, D.G., Two pole air-gap electrospinning: fabrication of highly aligned, three dimensional scaffolds for nerve reconstruction Acta Biomater, 2011 Janl7(1):203-15. Epub 2010 Aug 19.