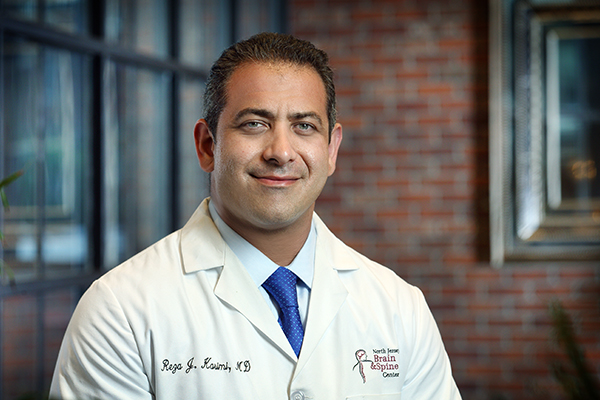 With advanced fellowship training in two neurosurgical subspecialties, Dr. Karimi performs highly complex and intricate surgical procedures to treat brain aneurysms, arteriovenous malformations, stroke, and vascular tumors of the brain and spine. And yet, his primary goal is to help patients experience optimal outcomes while avoiding surgery.
"I always seek, first and foremost, to keep my patients out of the operating room," says Dr. Karimi. "If that's not possible—if surgery is the only appropriate option—my goal is to offer them the least invasive, most effective approach."
Here are four questions for endovascular neurosurgery expert, Dr. Karimi, including why he became a neurosurgeon and how he approaches new patients.
Q: What drew you to neurosurgery?
Dr. Karimi: I always knew at a young age that I wanted to be a surgeon. In medical school I had the opportunity to watch brain surgery in the operating room. During that surgery, quite literally with the flip of a switch, you could see a major improvement in that patient's level of function. I was completely hooked on neurosurgery from that moment on.
Q: What is your approach when you meet a new patient?
Dr. Karimi: New patients are understandably nervous or intimidated, they may feel like they don't have control over their condition, or they may not fully understand their condition or their treatment options. I form close relationships with my patients, I put them in a position where they can make the best choice for themselves by taking time to address all their questions and concerns, and I discuss their treatment options openly and honestly with them. I try to put myself in their shoes, and I treat them as I would my own family members.
"Well over 90 percent of my patients never require surgery. We're either able to just follow them clinically or treat them with minimally invasive maneuvers."
Q: What sets NJBS's neurovascular program apart from other neurovascular practices? 
Dr. Karimi: We have every subspecialty of neurosurgery represented here. That is very helpful in highly complex, challenging cases where patients need a multidisciplinary team of different neurosurgical specialties coming together. Very frequently, for particularly rare or challenging cases, my partners run their cases by me and vice versa, and we put our heads together to find the best possible treatment for each situation. In this environment, where our neurosurgeons have advanced subspecialty training, patients have the best possible combination of expertise under one roof.
We're proud that our program has extremely low complication rates and very high success rates. We have worked very hard to suprass the national norms. For example, only 62 percent of patients in the United States with ruptured brain aneurysms completely recover with no disability. That percentage is nearly 90 percent for patients treated by our neurosurgeons.
Q: What is the most rewarding aspect of your work?
Dr. Karimi: I develop close bonds with many of my patients and their families. Some return every few months just to touch base, even though their treatment is long since completed.
By far the greatest compliment I can receive is when a patient sends their family members to me for treatment. That speaks to trust in my ability and judgement.
When I'm out with my kids, I sometimes run into former patients who thank me for helping them. My children will ask, "Who was that, Dad?" It's a very rewarding feeling to explain to your children how you helped someone through a challenging situation.
Dr. Karimi, in his own words:


Dr. Karimi Quick Facts
Medical School: Rutgers-New Jersey Medical School
Fellowship: Rutgers-New Jersey Medical School
Additional Fellowship: North Shore University Hospital
Residency: Neurological Surgery at Rutgers New Jersey Medical School-University Hospital; Served as Chief Resident, Robert Wood Johnson University Hospital and University Hospital
Board certified by the American Board of Neurosurgery
"Well over 90 percent of my patients never require surgery. We're either able to just follow them clinically or treat them with minimally invasive maneuvers."
- Reza J. Karimi, MD