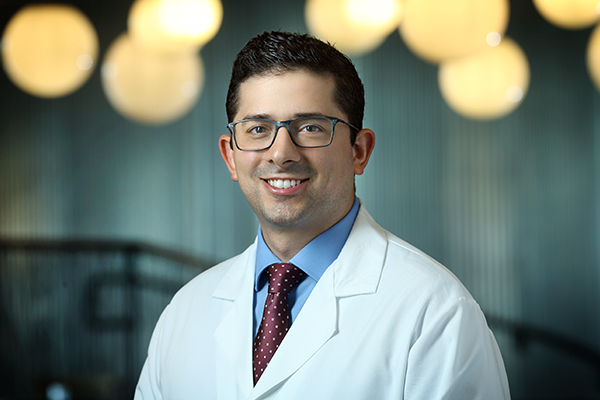 Dr. Paul Chirichella is a physiatrist (also known as a physical medicine and rehabilitation physician), with advanced subspecialty training in both interventional pain management and musculoskeletal ultrasound. He specializes in treating conditions that affect the spinal cord, nerves, bones, joints, ligaments, muscles, and tendons.
Dr. Chirichella is highly skilled in the accurate diagnosis of the source of pain, determining the best possible treatments to help patients live their best lives without surgery. With clinical expertise that includes musculoskeletal medicine, rehabilitation, ultrasound-guided injections, and nonsurgical spine care, he offers patients the latest advances in pain management.
Here are four questions for this highly accomplished specialist, including what he finds most rewarding about his work:
Q: What do you think sets you apart from others in your field?
Dr. Chirichella: When patients receive a cookie-cutter approach to treating their pain, the success rate can be very low. My training and experience give me a strong base from which to diagnose the source of a patient's pain. I can be very specific in my treatment, which leads to more success.
I stay up-to-date on all novel treatments and the latest literature to make sure I'm offering patients the best treatment. I am trained in electro-diagnostics and offer both fluoroscopic and ultrasound-guided injections to provide treatment directly to the origin of the pain.
I had a patient come to me after seeing multiple providers and receiving many different types of injection procedures and medications. After I nailed down the diagnosis, I was able to determine the most effective plan, which was physical therapy. The patient has done remarkably well. Most importantly, she told me that she is really enjoying life again.
It was a team approach between me, the physical therapist, and the patient that helped us reach that goal.
Q: What should prospective patients expect when they come to see you?
Dr. Chirichella: I spend as much time with each patient as needed to get a very thorough history and the details of their problem. That helps me understand not only where their pain originates, but how it interferes with their daily lives. It allows me to make an accurate diagnosis and develop a more specific treatment plan. 
I consider the whole patient. If you have back pain, it affects how you move, how you get out of bed, how you do your daily activities, and that can lead to pain in other areas. So, you can start developing hip pain and knee pain. It changes how you function.
Once I diagnose the origin of the pain, I create a multidisciplinary, nonsurgical treatment plan. I may recommend that a patient modify activities and incorporate a home exercise program; suggest physical therapy, chiropractic care, or bracing such as prosthetics or orthotics; and, if needed, prescribe medications or injections. This approach is usually quite successful in helping patients tackle their pain without proceeding to surgery. That's an ideal outcome.
My goal is not just to treat a patient's pain, but also to help them feel better on a day-to-day basis, to maximize their function. I'm looking for a patient to tell me that not only is their pain reduced, but also that they can do things that they weren't able to do previously, that they are living their lives in a way that makes them happy. Whether a patient's goal is to be able to walk their dog around the block or play pickup basketball, we modify as needed. We work to reach that goal together.
Q: What do you say to patients who are anxious about their condition?
Dr. Chirichella: I see many patients who are nervous about treatment, especially when their pain has been going on for quite a long time. I will spend as much time as it takes for the patient to understand what is causing their pain and why I'm recommending a certain treatment. It gives them confidence and helps ease some of that anxiety.
I see my patients frequently, because I want to know how the treatments are proceeding and what may be changing along the way. Invariably patients will start developing a pain in other areas. If we're treating low back pain, their knee may act up or their hip may act up. My patients know that I can offer treatment for all of these issues, with a goal of getting them functioning at an optimal level. Together, we'll be able to treat all of this.
Q: What makes New Jersey Brain and Spine different from other practices?
Dr. Chirichella: Every one of our doctors treats patients with compassion, listens to their concerns, and puts a good deal of care and thought into the best, least invasive path to a positive outcome.
We're not about trying to see as many patients as possible. We take our time with each patient and we take their concerns very seriously.
Dr. Chirichella Quick Facts
Medical School: Rutgers New Jersey Medical School
Residency: Physical Medicine and Rehabilitation – Rutgers New Jersey Medical School and Kessler Institute for Rehabilitation
Fellowship: Interventional Pain Management and Musculoskeletal Ultrasound, Rutgers New Jersey Medical School and Kessler Institute for Rehabilitation
Registered in Musculoskeletal Sonography (RMSK)
Board-certified by the American Board of Physical Medicine and Rehabilitation