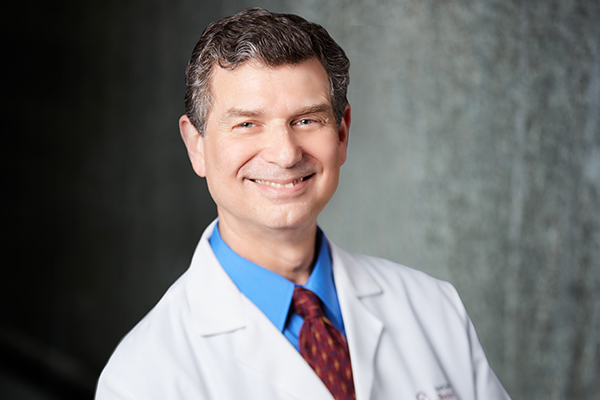 A physical medicine and rehabilitation physician with additional board-certification in pain management, Dr. Peter Schmaus specializes in the treatment of orthopedic problems, including neck, back, shoulder, knee, hip, and elbow pain, as well as herniated discs and spinal stenosis. To keep patients out of the operating room, he works closely with a multi-disciplinary team that includes physical therapists and chiropractors. He also incorporates yoga, Pilates, and Tai Chi, as appropriate, in his exercise-based treatment approach.
Widely recognized as one of the nation's leading specialists in rehabilitation and pain management, Dr. Schmaus is a well-known speaker and writer on topics that include ergonomics, spine injury prevention, repetitive strain injury, and sports injuries.
Here are five questions for this highly accomplished physical medicine physician, including what he finds most rewarding about his work:
Q: Many patients may be unfamiliar with the field of physical medicine. Can you explain what it is?  
Dr. Schmaus: Physical medicine is a nonsurgical approach to the treatment of neck and back pain, orthopedic problems, and sports injuries. Technically physicians in this specialty are known as physiatrists, but the name is often confused with psychiatrists.
Most problems of the neck and the back—even if there's a bulging or herniated disc—can be treated without surgery. Treatment approaches can include exercise, stretching, strengthening, physical therapy, injections, and anti-inflammatories.
For some patients, surgery is the best and only option. If surgery is needed, New Jersey Brain and Spine has a wonderful team of neurosurgeons and orthopedic surgeons. We also have physical therapists in our group. We provide the full gamut from surgical to nonsurgical care—all in one place.
Q: What are the most common neck and back pain injuries you treat?
Dr. Schmaus: When I started practicing 30 years ago, the neck and back pain I treated primarily resulted from traumatic injury. Now, most patients' injuries result from the use of technology  such as laptops, iPads, Kindles, and cell phones. How we interact with technology is critical. Posture and ergonomics are key.
I'm also seeing more and more how the sedentary lifestyle practiced by many Americans is contributing to an increase in neck and back problems. People should make a conscious effort to get up from their computers and walk around every 30 minutes and invest in a sit-stand desk, if possible.
Q: What do you most enjoy about your patients?
Dr. Schmaus: My favorite aspect of interacting with patients is the give and take. I learn from my patients. For example, they have made me aware of the value of meditation, acupuncture,  and other nontraditional techniques.
My patients run the gamut from luggage handlers at Newark airport to neurosurgeons. I have treated clergy, teachers, police officers, custodians. I enjoy working collaboratively with them to help them meet their goals.
Q: Is there a particular patient that comes to mind who taught you something? 
Dr. Schmaus: Some years ago, a Felician Sister came to me with a back problem. Two other doctors said she needed surgery. I looked at her MRI and saw that surgery was probably not indicated. I put her on the right exercise program, and she lost some weight. As her activity level improved, she started doing yoga, and then Pilates. She's been a patient now for 20 years and has never had surgery.
Q: What is most rewarding about your work?
Dr. Schmaus: I was drawn to this field because it combines neurology and orthopedics. Having had athletic injuries myself and having been treated by great orthopedists and physical therapists who helped me get back to skiing and playing soccer, I can understand what patients are going through. It's extremely rewarding to help patients attain their goals and return to the activities they love.
Dr. Schmaus Quick Facts
Medical School: Mount Sinai School of Medicine, New York
Residency: Mount Sinai School of Medicine, New York
Chief Resident: Mount Sinai School of Medicine, New York
Board-certified by the American Board of Physical Medicine and Rehabilitation
Board-certified in Pain Management