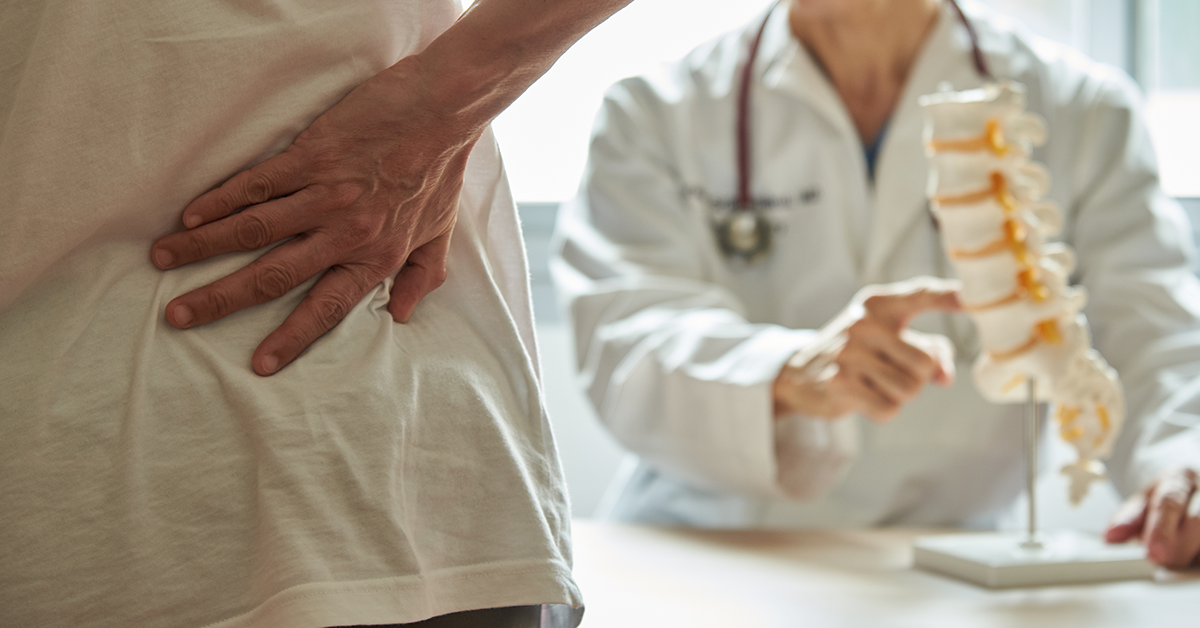 By Patrick A. Roth, MD and Roy D. Vingan, MD
Persistent back pain may be an obvious sign that it's time to call a low back pain doctor. But did you know that a back doctor, or spine surgeon, is also the go-to doctor for radiating pain shooting down an arm or a leg? Loss of movement in a limb? Even loss of control of the bowels?
If you've suffered with spine and back pain symptoms long enough, searched online for a "back pain doctor near me," or asked friends and family for referrals for spine surgeons, then it's time to make an appointment.
Your first visit to a low back pain doctor
It may feel daunting to see a back doctor who has the word "surgeon" in his or her title, but rest assured, any reputable spine specialist will opt first for the least invasive treatments. Before there's a determination of treatment, however, there must be a correct diagnosis.
The purpose of your first visit to a spine surgeon is educational. You and the spine specialist will learn the cause and extent of the pain. The surgeon will discuss with you the nature of the pain, how long it's been going on, and what lifestyle or work influences may be causing any limitations in movement. The back doctor will perform a physical evaluation of your back muscles, spine, limbs, and even gauge how you sit, stand, and walk.
Often, the spine surgeon will order imaging tests, such as an x-rays, MRI, CT scan, or bone scan. Other tests might include a blood test or nerve study. Only once you and the doctor have a clear understanding of the causes can a diagnosis be made and the discussion about treatment options (along with the risks, benefits, and reasonable expectations for outcomes for each) can begin.
Questions to ask a back pain doctor on the first visit
What specific structure is causing my pain?
It's common to think that low back pain is caused by an injury or strain. But there are several other possibilities, including diseases, such as arthritis; structural issues, such as scoliosis; or conditions, such as a herniated disc or spinal stenosis. It's important to identify the source of the pain to determine what treatments are appropriate.
How certain are you of the diagnosis?
It's important to determine whether an initial diagnosis is correct because many conditions of the spine, brain and nervous system can be complex. There are a few ways to double-check your diagnosis:
select an excellent, highly experienced neurosurgeon to begin with;
don't be afraid to ask the surgeon how and why he or she is certain of the diagnosis; and
get a second opinion if you sense any vagueness or urgency to prescribe surgery. Our practice offers a second opinion service.
What makes your treatment different from what your peers offer?
Again, it behooves you to do a little homework about the back doctor and the practice before scheduling your first appointment. Because many minimally invasive lower back pain treatments are standard protocols, what's going to make a treatment different or better from one spine surgeon to the next is your experience with them.
Not only do you want to find a highly educated and experienced spine surgeon, but one who listens to you and doesn't make you feel rushed, one who genuinely cares about your outcome and welfare. You'll want to find a practice that is friendly, professional, and ensures frequent and prompt communication.
Other questions to ask
What are the non-surgical treatment options and their relative chances of success?
What are the surgical treatment options and their chances of success?
How would you describe success for a case like mine?
What are the major risks of surgery if it is needed?
What are some of the unintended possible consequences even if the surgery is deemed successful?
Learn more about New Jersey Brain and Spine's comprehensive spine center.