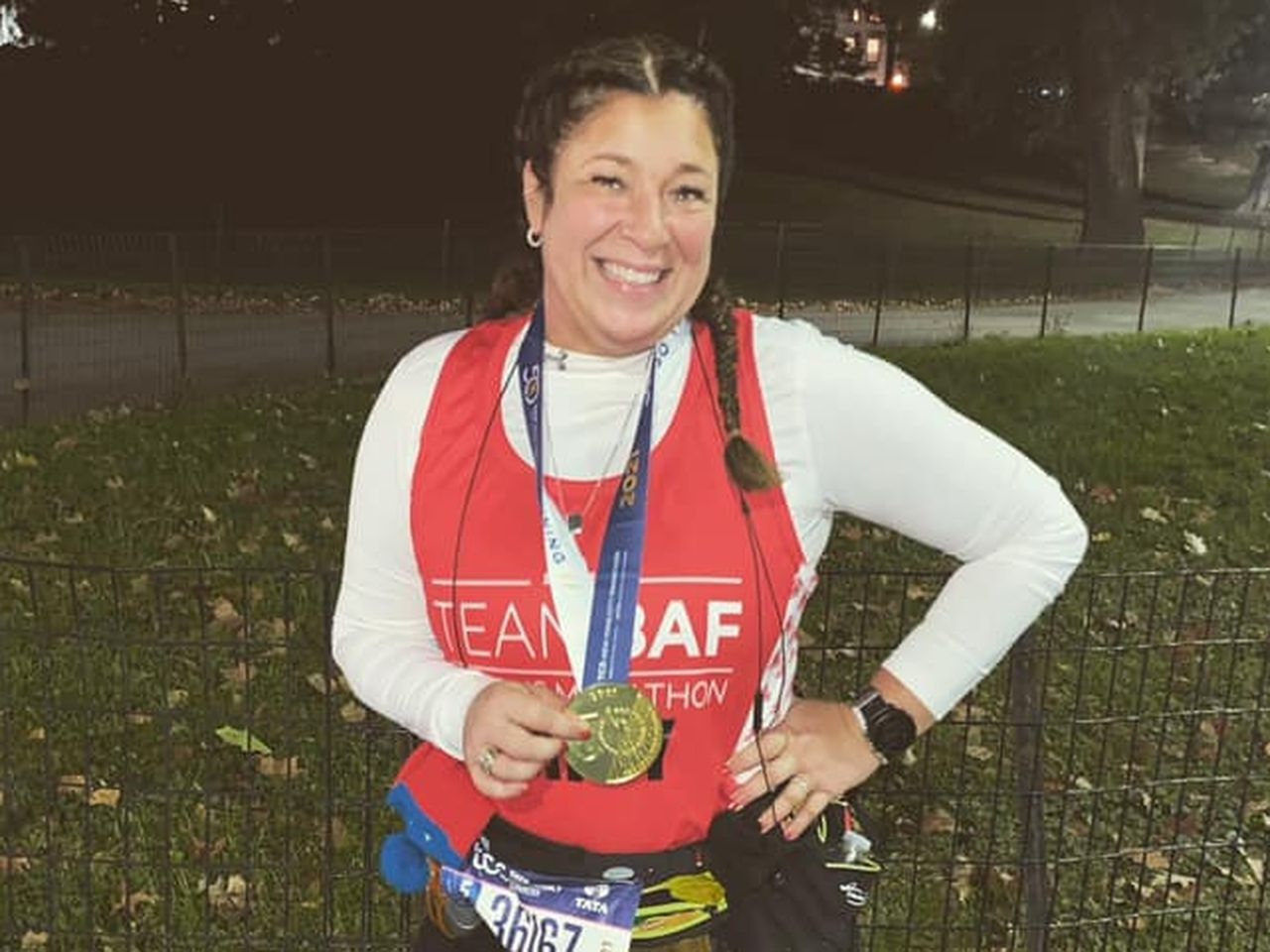 Patty Petrula was training for her first triathlon when she collapsed at the gym and was rushed to the hospital, where Dr. Daniel Walzman determined she had suffered a ruptured brain aneurysm. 
Using advanced technology and what Patty describes as a "calm confidence," Dr. Walzman performed surgery to alleviate and seal the aneurysm. With great determination, Patty walked out of the hospital two weeks later, and fulfilled her goal of completing the triathlon and the New York Marathon the same year.
"I get to choose what I want to do," says Patty. "I get to walk or swim or run, and I take full advantage of that."
Learn more about Patty's aneurysm story
"I know that my recovery has been pretty darn good," says Patty. "Everyday I get to wake up in the morning and do the things I love to do."
---
"To me, movement is medicine. I move every single day. I make it a point to move, whether it's walking my dogs just working out at the gym."
In 2013, Patty's devotion to fitness prompted her to enter her first triathlon, but in the midst of training, she suffered a frightening and near fatal setback.
"I'm at the gym with my husband, and I just had finished running and I just didn't feel right. Within seconds, I had to grab my head and experience the worst possible pain I've ever felt in my life. And I crashed to the floor."
She was rushed to the hospital and seen by Dr. Daniel Walzman.
She was semi-comatose, had to be intubated for airway protection and was taken for emergency imaging of the brain.
The results were alarming.
On imaging, she had a basilar tip aneurysm, which is at the tip of the basilar artery, which is the main artery to the to the brain stem, which is really the interstate highway of the brain, the pathway through which all the all the commands get to our, to our face, to our arms, to our legs, to pretty much our entire body. It's really a delicate area.
Dr. Walzman had to tell Patty's family that her condition was grave.
"We spoke to the family. We explained, you know, that unfortunately she had had a life-threatening ruptured aneurysm in her brain. She had development of early hydrocephalus, which is increased fluid in the brain."
Surgery wasn't an option because no brain activity could be detected. Patty's husband had to prepare their daughters for the worst.
"When things weren't looking very, very good, my daughter was walked into a room to say goodbye to me because I had no brain activity. And at that moment, they couldn't perform any surgery. It still to this day, just, it gets me very emotional to, to know that. That she had to witness that."
But then, Patty moved her toe.
"That was the, the sign of hope that they were able to perform the surgery. Because of that little wiggle of my big toe that showed that I had some type of activity happening."
With that encouraging sign, Patty was sent to surgery. Dr. Walzman first drained excess fluid from Patty's skull to relieve the pressure on her brain.
And then we went ahead and did an angiogram, including a, a special 3D angiography. And based on the 3D angiogram, we're able to manipulate the images in different views and pick the best viewing angles to treat the aneurysm.
The aneurysm is treated by sending a catheter to the site through a blood vessel to deliver a series of microscopic coils. The filaments clumped together, sealing the aneurysm to prevent further blood loss. Patty's surgery went well, but she was not yet out of the woods.
"I was very happy to tell him that the procedure had been successful and the aneurysm was secure. Her risk of rupturing again, was quite minimal. Despite that, though, there's typically a long and arduous course over the next two weeks for a patient with ruptured brain aneurysm."
Patty was ready for that challenge, and she vowed to walk out of the hospital on her own two feet.
"We could do hard things, and I wanted to prove to my, my children that I'm still strong. Just because this happened to me. I'm still able. I just wanted to prove that I could still be me."
It was only in the early days of her recovery that Patty was able to appreciate the care she received from Dr. Walzman.
"His demeanor, he's just so, he was just so lovely. He was just so calming, and I was a nervous wreck. I mean, I just, I couldn't understand what was happening to me, and he just made everything seem like it's all gonna be okay."
In the same way, Dr. Walzman came to appreciate the measure of Patty's determination.
"She's a ball of energy and, uh, you know, she's a fighter. So, uh, you know, we saw that fight in her pretty much from day one."
Even in rehab, Patty had her mind on unfinished business.
"I made a commitment pretty early on that I was going to, I was going to do that triathlon, and I did it a year later."
Then she ran in the New York Marathon. Her remarkable recovery, no doubt, aided by her tenacity.
"Even though I have obstacles, I just know where I could be. And I know that my recovery has been pretty darn good compared to many others."
She's done great. She's exceeded all of our expectations. You know, she's got a full life ahead of her without any limitations.
Despite suffering a near fatal aneurysm, Patty is back a changed and grateful woman.
"I have such a different perspective and on just on life itself. It's the small wins and it's the everyday waking up in the morning. I get to choose to do the things that I do. I get to, I get to walk, I get to swim, run."
"I've been given a gift and, and I take full advantage of that."