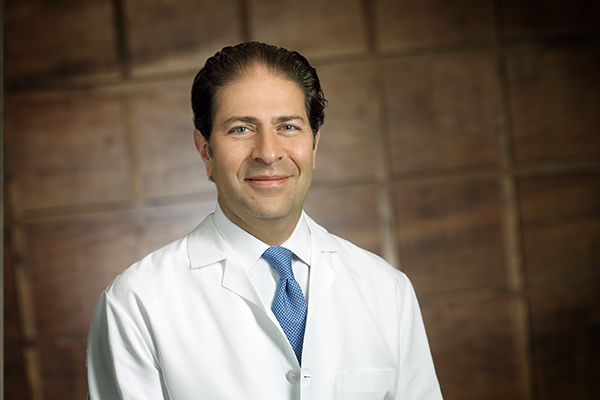 Hooman Azmi, MD, is a highly trained and experienced specialist in the treatment of Parkinson's disease and other movement disorders. He has been tireless in identifying and employing the most comprehensive and advanced options—often non-surgical—for patients.
As the Director of the Division of Functional and Restorative Neurosurgery at Hackensack University Medical Center, he is committed to providing the most thorough and technologically advanced medical and surgical treatments to patients with Parkinson's disease and other movement disorders.
Dr. Azmi has spent the last decade developing hospital protocols to improve the safety of hospitalized patients with Parkinson's disease. He is the author of numerous peer-reviewed articles and book chapters on the subject, and has received many awards for his leadership and expertise. He is also a co-author of Parkinson's Disease for the Hospitalist, a book intended to educate other doctors, nurses, and healthcare providers on the best care for Parkinson's patients when they are admitted to the hospital.
In 2018, Hackensack became the first hospital in the country to receive Joint Commission Certification for Parkinson's disease, due to the efforts of a team of compassionate and dedicated practitioners led by Dr. Azmi.
Dr. Azmi's other areas of interest include the surgical treatment of various chronic pain syndromes, trigeminal neuralgia, headaches, and epilepsy. In addition he has expertise in the minimally invasive diagnosis and treatment of brain and spinal tumors, and complex spinal reconstruction for tumors and traumatic injuries.
Here, Dr. Azmi answers four questions, including what drew him to neurosurgery and how he is making hospitals safer for patients with movement disorders.
Q: What attracted you to neurosurgery?
I always found neurology fascinating; how intricate the nervous system is. Everything we do depends on the normal and correct functioning of our nervous system. When things don't function correctly, it can be devastating. It is exceptionally gratifying to be able to relieve a patient's suffering.
Q: What are some of your main goals when meeting with a new patient?
Patients tell me that I tend to be calming for them. That's important, because having a neurological problem can be frightening. Many patients are anxious when they come see me for the first time, especially when they have read things on the internet that may not be accurate, may not apply to them, or that may need to be explained more thoroughly.
I see myself as a conduit of information. My goal is to break down the patient's problem for them, make a correct diagnosis, and give them their options. Together, we go through the decision-making process. Ultimately, the patient makes the decision.
I strive to take care of my patients as I take care of my own family, to get them through the process as safely as possible, and to provide the best possible care. It is quite a compliment that patients bring their family members and friends back to me after their own treatment.
Q: You have taken a particular interest in how people with Parkinson's disease are treated in hospitals. Can you elaborate?
One of the challenges faced by patients with Parkinson's is that they come to the hospital for another medical condition and their Parkinson's disease gets lost. Data show that when the patient's full condition—including the Parkinson's or other movement disorder—is not considered by physicians, that can be very harmful to patients.
I feel that physicians and hospitals are responsible for not only providing innovative care to patients, but for also ensuring that the hospital environment is safe and that the patient's treatment includes a consideration of all of their medical problems.
That's why we've worked hard to develop protocols that ensure the hospital is a safer place for patients with Parkinson's disease and other movement disorders.
I think we've been exceptional in providing really innovative care to these patients. We ensure that when patients come to the hospital, regardless of why they are there, they receive the best possible care.
Q: To what do you attribute the excellent reputation of this practice?
I'm very proud to be part of this practice because we deliver expert, exceptional, and compassionate care to patients. In addition, we all strive to be as conservative as possible. We offer every feasible option to our patients—including innovative techniques and nonsurgical approaches.
Our model of diversified sub-specialization is important. The more you practice in a particular area, the more expert you become. I think you deliver better care, as opposed to dealing with multiple different disorders and doing just a little bit of each.
No matter what problem brings a patient here, I know they will get the best care possible.