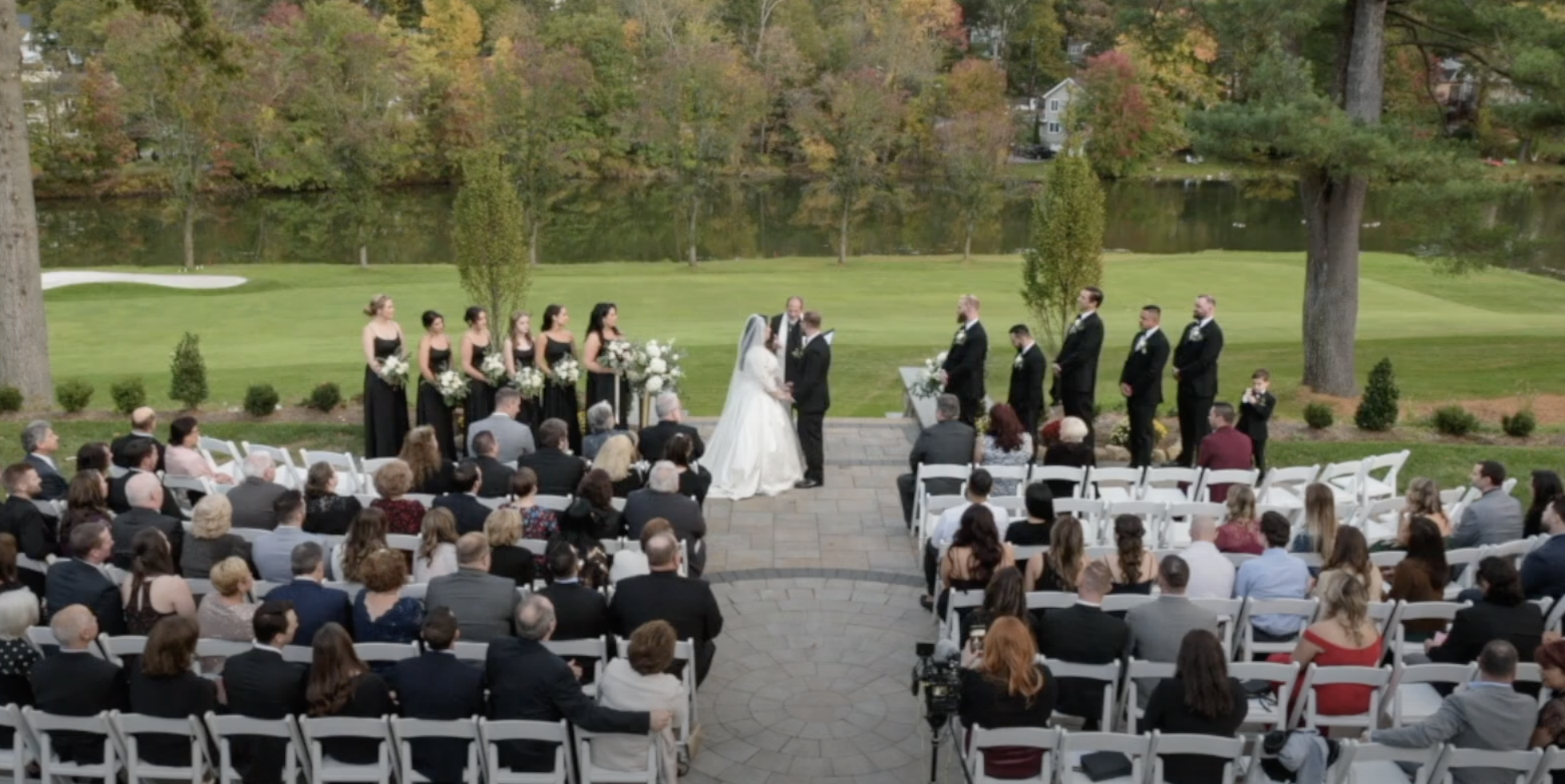 Imagine being just 23 years old and suddenly suffering from debilitating back pain. That is exactly the scenario in which Dana found herself. Four years later, still in pain, she feared her forthcoming wedding would be interrupted by the severity of her condition. 
"As silly as it may sound, I really wanted to last in shoes for longer than five minutes at my own wedding. I didn't want to be miserable thinking about my back on what's supposed to be the happiest day of my life," shares Dana.
A pain-free wedding doesn't seem like a lot to ask, but Dana had reason to be concerned. At 23, Dana was a newly minted x-ray technician. She had just moved a patient when she felt something unusual: an immediate pain in her back radiating down into her legs.
"I thought, this is strange for a 23-year-old girl. Of course, I'm in the x-ray department, so they take my x-ray," Dana recalls. "The radiologist who knows me says, 'Hey, uh, is this your back?' I said yeah. And he was like, 'We have a problem.'"
It Was, Indeed, a Problem
Unfortunately, Dana had multiple fractures in her back that she was either born with or developed during her adolescent years. Those fractures ultimately caused her a lot of back discomfort and pain, which prompted her to see a surgeon.
Several doctors recommended fusion, but just the idea of that frightened Dana. She then met a surgeon who proposed relieving the pain by placing four screws in the fractures to stabilize her back. This particular surgeon predicted the solution would last 10-15 years, allowing Dana to be pain-free throughout that timespan. 
Dana made it about three months without pain. Then, it came back with a vengeance. 
"I had a very deep pain in my right leg. It would be this cramping, burning sensation that I had never experienced before for any injury I've ever had," she remembers.
Four Years Later: Desperate for a Solution
With four new screws in her back and the pain getting worse, Dana did what any 23-year-old might do: put up with the pain and go on living. "I ignored it for a really long time. I hit 27 and was exhausted. I was in pain all the time. I couldn't do anything and I gave up."
She knew she had to do something. A life of misery cannot be sustained long-term. Dana began to work closely with multiple surgeons, including Dr. Mohammed Faraz Khan—one of New Jersey Brain and Spine's top neurosurgeons. Dana particularly admired Dr. Khan's approach to problem-solving.
"He doesn't leave a stone unturned and he doesn't just assume. I finally called him, and it was the best decision," she notes.
It didn't take long for Dr. Khan to identify the source of Dana's pain. "The screws had gotten loose, making her quite miserable and uncomfortable from all the movement in her back from the four fracture sites that had not healed properly," he explains. 
The Surgical Plan
To relieve her pain, Dr. Khan planned to remove the original screws and replace them with larger, stronger fasteners that would stabilize her back and allow it to heal. He knew exactly what was causing the pain and thus how to address the problem. Dr. Khan was confident in Dana's outlook—which provided Dana confidence as well.
"She was first and foremost relieved that we had identified what was causing her pain," states Dr. Khan. "And, she was willing to move forward with whatever was needed to be done to get her out of this difficult state in which she was living."
With her wedding just months away, Dana underwent the surgery. "I was really, really hopeful. I had felt for the first time in this entire situation that I had all the answers. I was also really confident that I had the best team around me." 
Post-surgery, it didn't take long for Dana to realize she had finally turned the corner.
"It was incredible. At one point, I even texted Dr. Khan saying, 'Big win. Today I sat for longer than 20 minutes.' That was a big moment. It was really exciting to see I had a future. It's been really, really life-changing."
Dana's Wedding Wish, Realized
Dana continued to improve. Thankfully, she got her wedding wish. While she did take her shoes off at one point, it was because of her hurting feet—not her back. Today, Dana is back at her radiology technician job and able to move equipment with ease. 
"It makes me so happy to see that Dana did so well with the surgery. She's able to work. She is able to dance. She's able to live her life again," says Dr. Khan. He hopes Dana's journey will serve as a message to others who are living in daily pain. Dana agrees.
"Looking back on it, I'm almost sad I didn't do it sooner. I wasted what was supposed to be the most fun years of your life. I was really just trying to get by. I wish I hadn't because I can do everything. There's nothing I can't do."