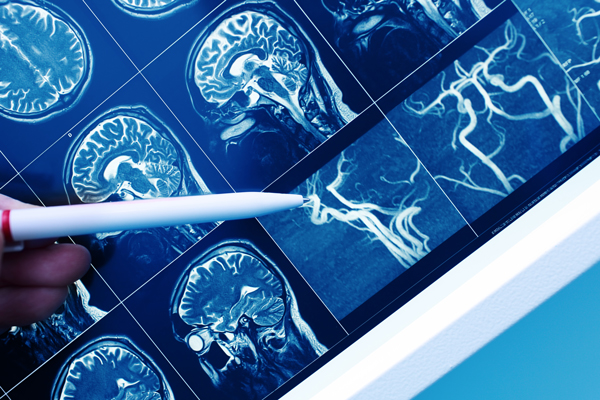 WHITE PLAINS, N.Y. (January 8, 2016) – Neurosurgeon Dr. Robert Goodman and the White Plains Hospital epilepsy team recently implanted the first NeuroPace-RNS® (responsive neurostimulator) system at White Plains Hospital in a patient with epilepsy. White Plains Hospital is currently the only healthcare provider in Westchester approved for performing this innovative procedure, which was FDA-approved in 2013 to treat adults with partial onset seizures that are not controlled by medications.
The NeuroPace-RNS® is the first and only brain-responsive neurostimulation system designed to prevent epileptic seizures at their source. The system involves the implantation of a small device connected to tiny wires, placed in up to two seizure onset areas. The device continuously monitors brain activity and can detect abnormal patterns in brain activity, delivering imperceptible electrical pulses in response to normalize the activity before an individual experiences seizures. It is able to recognize each brain's unique "fingerprint" and respond in real-time to try to prevent seizures from occurring – delivering treatment when needed, on average less than 6 minutes of stimulation per day. The patient does not feel the stimulation when it is delivered. The NeuroPace-RNS® system can also deliver data wirelessly to the patient's physician about seizure frequency and electrocorticographic activity.
According to Robert Goodman, MD, PhD, "The NeuroPace-RNS® can reduce the number and severity of seizures in a significant percentage of epilepsy patients. Some patients can stop having seizures for prolonged periods of time – even years – following the implantation of this device." Dr. Goodman adds, "Another benefit of the system is that it is able to pinpoint precisely where the seizures are starting – in some patients, whether in the left or right temporal lobe. This is often very difficult or impossible to determine with other methods of testing. If the seizures originate in one temporal lobe, the patient could be a candidate for further surgery and could be cured completely of seizures." The RNS® system also has lower risk than other brain surgeries, with fewer infections or serious complications. The procedure can be done with a brief hospital stay (1 – 2 days) and the patient is usually back to normal within 1 – 2 weeks.
The seizure diagnostic center at White Plains Hospital is the only Level 4-specialized Epilepsy Center in the region. The center is overseen by co-Directors Dr. Marcelo Lancman and Dr. Olgica Laban-Grant from the Northeast Regional Epilepsy Group. According to Dr. Laban-Grant, "The multidisciplinary team at Northeast Regional Epilepsy Group and White Plains Hospital is involved in identifying patients who would benefit from the procedure. After the implantation, data analysis and adjustment of the RNS® system is done by epileptologists."
Epilepsy is a neurological disorder characterized by the occurrence of at least two seizures that were not caused by a specific medical condition. According to the Epilepsy Foundation, it is estimated that approximately 3 million people of all ages in the US, or about 1 in 100, have been diagnosed with epilepsy. Surgery may be a treatment option in some cases where medications are not controlling seizures or the side effects are intolerable. The type of epilepsy surgery will depend on the location in the brain in which seizures start.
Read more from the original release at White Plains Hospital.