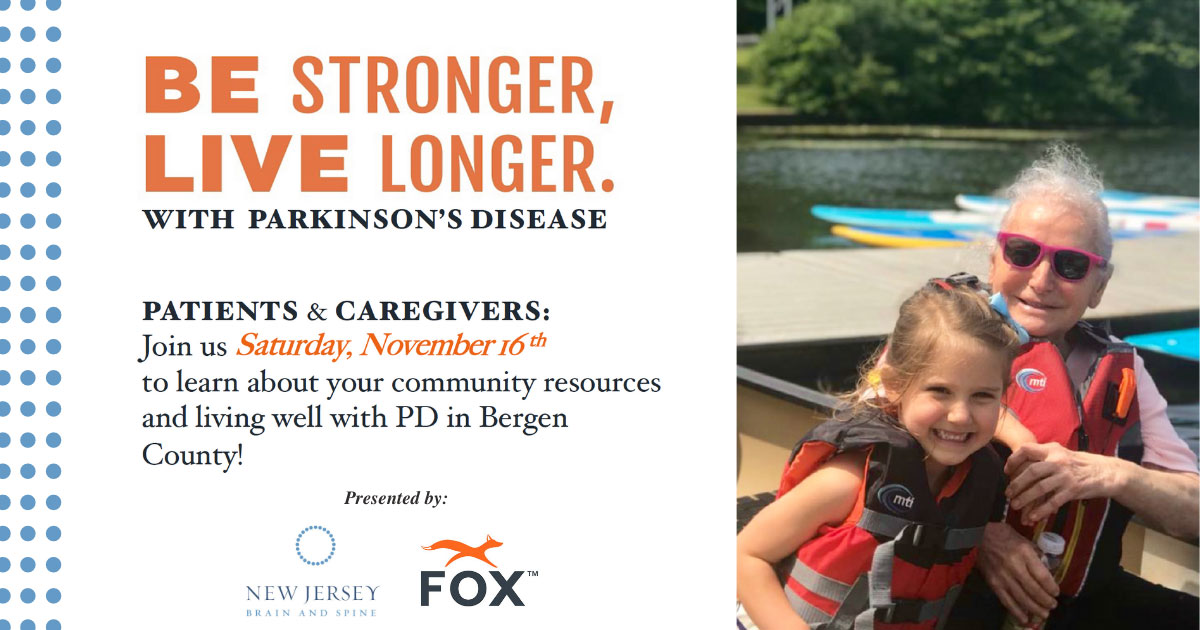 Oradell, NJ – October 14, 2019 – Dr. Elana Clar, a Neurologist at New Jersey Brain and Spine, will discuss community resources for Parkinson's Disease at the Be Stronger, Live Longer event on Saturday, Nov. 16 in Teaneck, NJ. Dr. Clar will co-present with therapists from FOX Home Rehabilitation Services to share the latest research in nutrition, exercise, and physical, occupational, and speech therapy programs. There will also be demonstrations by Lee Silverman Voice Treatment, Delay the Disease, and Rock Steady Boxing, and an opportunity to meet and network with Bergen County Parkinson's disease resources and representatives from the Parkinson's Foundation and American Parkinson Disease Association.
WHAT: Be Stronger, Live Longer, a community event to learn about community resources for Parkinson's disease
WHO: Dr. Elana Clar, Neurologist at New Jersey Brain and Spine and FOX Home Rehabilitation Services Physical, Occupational and Speech Therapists
WHEN: Saturday November 16, Registration begins at 9:30am
WHERE: Teaneck Marriott at Glenpointe, 100 Frank W Burr Blvd. Teaneck, NJ 07666
While the event is free, space is limited. Please email event[email protected] or call 201-708-6975 to reserve your spot by Nov. 1.
About North Jersey Brain & Spine
For over 20 years, the physicians and surgeons of NJB&S have restored children and adults with a wide range of brain, spine and other neurological conditions to optimal health. Leaders in their field and respective subspecialties, NJB&S physicians begin with conservative care and extend to highly advanced, minimally invasive procedures as needed, achieving unparalleled outcomes when treating complex neurosurgical conditions, including strokes, aneurysms, brain and spine tumors, spine pain and disorders, and movement disorders such as Parkinson's disease. NJB&S accepts most insurances and practice at the area's finest hospitals. For more information please visit www.njbrainspine.com.