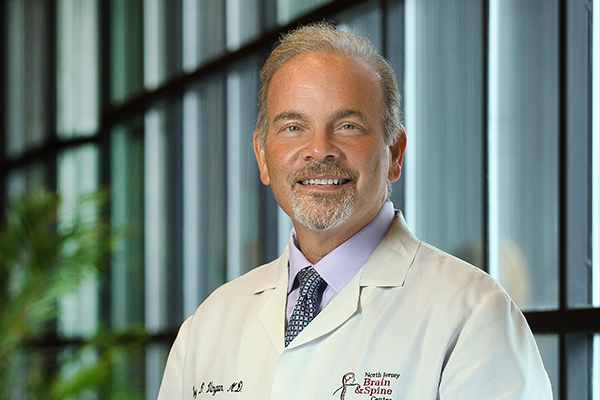 Stephen Tinney had been experiencing severe lower back pain for years, but when he started to feel numbness in his legs and feet, he knew it was time to seek medical care. "Going up the stairs was painful, and it was hard to get out of bed," says Stephen. "I also began struggling with balance due to the numbness."
He sought help from his primary care doctor, a podiatrist, and a neurologist, but none could find a solution. Then, after receiving recommendations from several friends in the healthcare field, he reached out to Dr. Roy D. Vingan, one of the country's premier neurosurgeons and a co-founder of New Jersey Brain and Spine.
"One friend told me that Dr. Vingan had actually recommended against surgery in a previous back pain case," explains Stephen. "That was important to me. It meant that he would only recommend surgery for me if it was absolutely necessary."
Surgery as a Last Resort
Many patients with back pain can improve without surgical intervention, and more often than not, Dr. Vingan has successfully treated patient back pain with techniques that include pain management and physical therapy. Dr. Vingan's approach is often to first diagnose the problem based on imaging and symptoms, and then look into what non-surgical treatment options are available. Unfortunately, a non-surgical method wasn't appropriate for Stephen.
"His pain was caused by a severely degenerative disc with lumbar instability that developed into an unstable spine," says Dr. Vingan. "Having exhausted other techniques, the best option was spinal fusion surgery to treat the unrelenting pain."
Stephen was nervous about the surgery, but Dr. Vingan's thorough explanations regarding what to expect before, during, and after the procedure assuaged his fears.
"It's important to find a doctor you can trust, like I did," notes Stephen. "I trusted that following his recommendation would help me have a better life."
Life Reinvigorated
Stephen's surgery went well, and after brief hospitalization, he was discharged to continue recovering at home.
Throughout the process, Dr. Vingan was very involved and attentive, says Stephen. "He took the time to listen to every one of my concerns and worked with me to find solutions," he says.
After a procedure such as Stephen's, patients often undergo a course of physical therapy for a length of time based on the patients' needs. In Stephen's case, it was effective in a number of weeks, after which Stephen's back pain eased and his mobility significantly improved. He has continued on that positive trajectory ever since. "I feel better every day, and I no longer have back pain," he says. "It's the best I've felt in years."
Advice for Other Patients
If you are experiencing severe back pain or numbness, don't hesitate to seek out care from an experienced neurosurgeon, says Dr. Vingan. He recommends finding one who considers the least invasive treatments that are appropriate for your condition, circumstances, and goals. The neurosurgeon should also be able to clearly articulate the benefits of the recommended treatments and compare those with any alternative approaches.
"Your neurosurgeon should thoroughly explain what your treatment options are to help you make an informed decision" he says. "While neurosurgeons are trained to perform surgery, they should not consider surgery as the first option and certainly not as the only option."
That said, for some patients surgery is the best option. "Lower back pain is common but that doesn't mean patients have to live with it," Vingan adds. "I recommend surgery as a last resort, but in cases like Stephen's, spinal surgery provides the greatest improvement in quality of life."
---
Roy D. Vingan, MD, is one of the country's premier neurosurgeons. A founding member of New Jersey Brain and Spine, he's been practicing for nearly three decades and for the past 15 years, has focused primarily on treating patients with spinal conditions. He has held several leadership positions over the span of his career and is currently vice chairman of the Department of Neurosurgery, co-director of spine surgery, and chief of minimally invasive surgery at Hackensack University Medical Center.